Jill Schilling
Social Security Disability Lawyer
Are you unable to work due to a disability or debilitating illness? Do you need help filing a claim? Has your claim been denied? Are you afraid you'll be turned away because you do not have the money to pay attorney's fees?
I can help. If you're a hardworking person who has paid the required amount of your Social Security taxes and your doctor says you are no longer able to work, you're probably entitled to Social Security Disability benefits. After a waiting period, SSD eligibility also allows you to receive Medicare benefits - even if you're under age 65. If you are short on quarters of earnings, you may still be eligible for Supplemental Security Income (SSI) and Medicaid.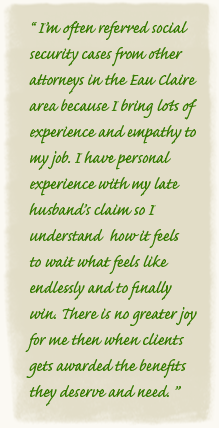 As a Social Security Attorney, I get paid only when I win. Our fee is the same no matter when we begin work on your case, so it's in your best interest to retain us early - after you get your first denial. If you wait until you have a hearing date to get an attorney, that also means we may not have sufficient time to properly prepare your case. Let us take a big weight off your shoulders by filing your appeals carefully and professionally. When you retain us, you will no longer have to worry about your case. You hired us to worry for you. If you continue to worry, one of us will be wasting worry time!
Unlike national Social Security Disability "mills," you will meet with me in person several times before any hearing on your case. Plus, you are always just a phone call or email away from my assistant. I am a member of the Chippewa Valley community; I know the judges; and I have years of experience advocating for disability benefits. I knows the process, the paperwork, and the very specialized Social Security disability rules and regulations.
Don't wait. Talk to an Eau Claire social security lawyer today.
CONTACT ATTORNEY JILL SCHILLING TODAY